A lot has changed in the last couple of years but the climate crisis hasn't gone away. It feels like momentum is building, so hopefully we can speed up and make the changes needed quick enough.
Perhaps people have started to realise that if you fail to address an obvious problem then nature will give you a kicking. Or maybe it is simply that we have shown that we have the capacity to act when required. Nothing is impossible.
I'm sure many people will have discovered the benefits of working from home and the resulting reduction in unnecessary travel, working time, stress, cost, air pollution and tiredness. Maybe you've also had an opportunity to reconnect with nature and experienced the benefits of walking in the wild, away from the noise and commotion.
It's that time of year to reflect on what we want to keep doing or do more of, and what we want to stop doing or do less of. With that in mind, I have added to and revamped GreenResolution.org for 2022.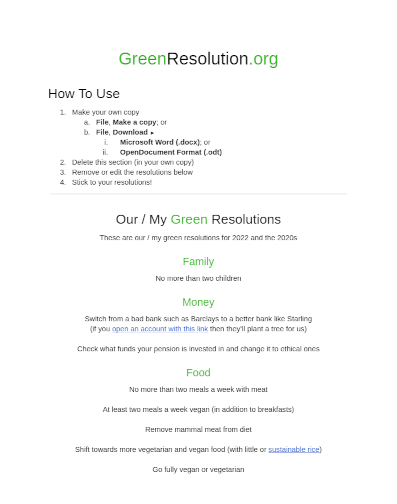 Feel free to use this template to create your own goals and long term plan. If you want to do this offline then you can download it straight from here for LibreOffice Writer or MS Word.