I've updated my InstaBail PWA 1 2 with new excuses and other improvements.
InstaBail is a fun offline mobile web app that generates random excuses (bails) and easily lets you share them. It uses real-time train delay information for more realistic bails. InstaBail uses the TfL API and my Huxley project to proxy live railway departure data.
Check it out at InstaBail.uk.
There is nothing to install, simple open it with your phone's web browser.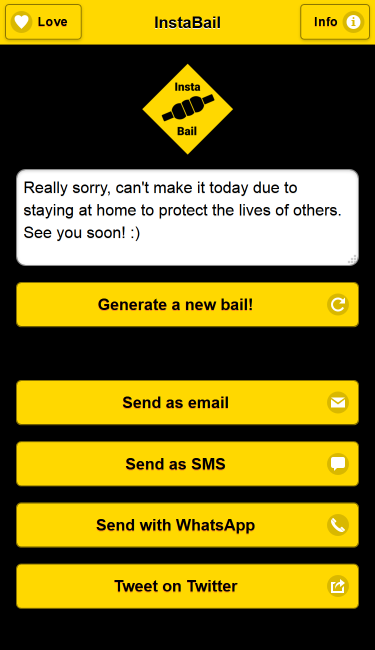 You can add this app to your phone's home screen. Simply press the share/menu button in the browser toolbar then press "Add to Home Screen". If you launch the app from there it will run full screen. It even works offline (but you won't get all the bails without internet).
The InstaBail app is open source and you can find the code on GitHub. It is also treeware! If you found it entertaining then please plant a tree for me.