Taking the train is a great way to travel. It's more environmentally friendly, you get to see the countryside and you can be productive (I'm writing this on a train). It can also be the cheapest way to travel if you know a few ticket tricks.
The recent "race across the world" TV show on BBC demonstrated that you can get from London to Singapore overland without flying, it just takes a little longer (50 days vs 12 hours)! That is taking it to the extreme but there is plenty of high-speed rail in Europe (and in China/Korea/Japan) that is a much better option than a short-haul flight.
If you factor in the time getting to and waiting at the airport, the queuing for the security theatre and the inconvenient remote locations of many airports then flying can be a long ordeal. Taking the train can be quicker overall, more convenient and less stressful. The Man in Seat Sixty-One is an excellent information-dense resource for international train travel.
It's no secret that I'm the sort of person that will spend two days taking the train from London to Berlin (overnighting in Brussels and changing in Cologne) rather than fly. I'd choose to take three days (two buses and two trains, one sleeper) over a three hour plane journey and travel the whole length of long countries at ground level.
International travel needn't take that long. If you are going to Scotland then the train is the best way to go. For the main cities you can go during the day and London to Edinburgh is only four and a half hours. If you are off to the highlands then the sleeper is a great experience but Edinburgh and Glasgow are too close to make it worthwhile.
If you take the overnight train from London to Inverness then you wake up in the Cairngorm national park and fantastic scenery out of your cabin window. Both the day and night routes will soon have brand new trains on.
If you like older trains then you can take the sleeper to Fort William and check out The Jacobite going over the Glenfinnan Viaduct, made famous in a Harry Potter film. Shame about the coal.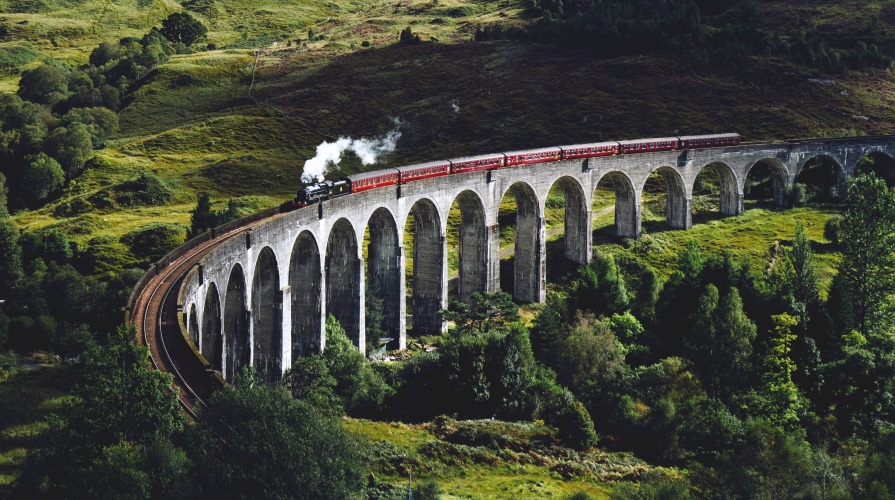 Ticket Tips
My usual website for buying national and international train tickets is loco2. Full disclosure, I know the founders but they have since sold it to SNCF and are no longer involved.
This sale has resulted in an increase in marketing spend and there are some great deals around. TopCashback had a great introductory offer and currently offers 4% back for new customers and 1% for existing customers.
If you are spending over £125 then cashback is a better deal than the £5 off from this referral link (I get £5 off too, there's a £10 min spend, you need to register and it's for new customers only). Let me know if it doesn't work.
Railcards
Railcards are an additional way to save on train fares. Unfortunately, I'm too old for a young person's railcard, even the new one for slightly older people. Most railcards give you 33% off but come with various differing restrictions.
In the South East you can buy a Network railcard. This is similar to the Gold card you get with an annual season ticket but has many more restrictions. It can be worth getting if you don't pay full price for it.
If you know someone with a Gold card then you can use it to get another railcard for £10 (it used to be £1 not so long ago but it's still better than £30) or pay using Tesco clubcard points, among other deals. If you regularly travel with another individual then you can get a national two-together railcard.